4th Fridays Art Event at The Dole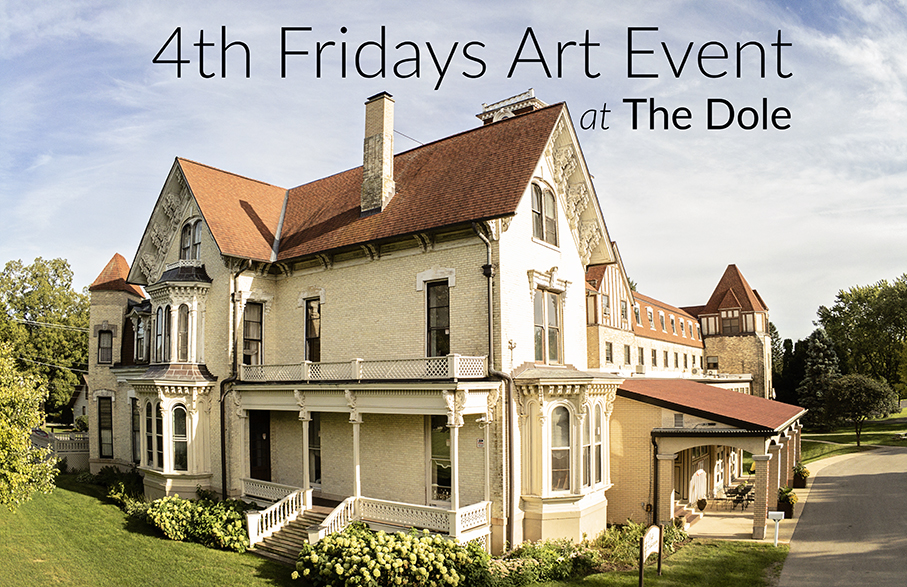 />
4th Fridays Art Event is a regional art event held 10 months a year. 4th Fridays has rocked the world of art events since April of 2011 with our juried mixed art exhibit, juried photo contest, featured artist solo exhibit, vendor artists, People's Choice voting, live music and a cash bar for beer, wine and mixed drinks. This must-attend event brings in art enthusiasts each month traveling from as far away as Chicago, Milwaukee and Madison. We run our events January through October with a break in November and December for the holidays. $10 cover at the door. For families with one or two parental units, kids 17 and under free. Jump on our mailing list to stay informed.
4th Fridays supports regional artists with a genuine commitment to excellence and the idea that art events can also be fresh+fun. We carry through on our promise of fresh each event with new artwork, new+returning artists, new featured artists, rotating+new musicians and new event design themes+installations dreamed up by our clever+creative core team.
4th Fridays is made possible by a team of 90+ committed volunteers who believe that keeping the arts alive and thriving in a community is beyond important. Their effort and heart show in the many details that make each night magical and with a fervor that will keep "4th Fridays" alive forever.
For more information, view the prospectus on the submission process:
To find out about more about being part of our amazing team through volunteer opportunities, please e-mail Nancy to start a conversation.
2020 4th Fridays Art Event at The Dole Calendar
All 2020 4th Fridays events start at 6pm and end at 9pm.
January 24th
June 26th – PENDING
February 28th
July 24th – PENDING
March 27th – CXCLD COVID-19
August 28th – PENDING
April 24th – CXCLD COVID-19
September 25th – PENDING
May 22nd – CXCLD COVID-19
October 23rd – PENDING
November+December – break for the holidays