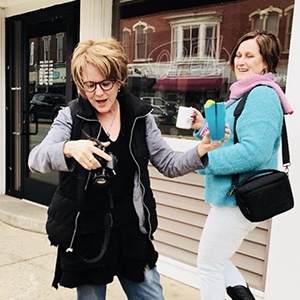 Ninety with Nance is 90 minutes of private one-on-one photography instruction that starts & ends with you. Bring in your current questions and goals and we will get right to the heart of your next step needs.
Group workshop topics of camera settings, composition, black & white, people pictures, the creative process, iPhone and GoPro can also be taught in these sessions.
Ninety with Nance works with your individual scheduling needs according to mutual availability and is super simple to register through our calendar below. Ninety with Nance meets in our Dole Mansion studio location at 401 Country Club Rd in Crystal Lake.
COVID-19 – Although we do our very best to socially distance, teaching photography requires up close and personal interaction, too. Please note that Nancy will not be wearing a mask [until she finds one that doesn't make her face itch terribly every time she talks]. Please make your appointment decisions accordingly. Of course, we encourage you to wear a mask if this makes you most comfortable.
You're really going to love your Ninety with Nance!
90 All-About-You Minutes = $125
Schedule your session below or click here to start an email conversation for more info.