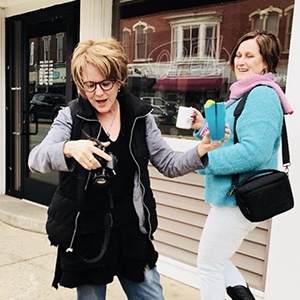 Your Ninety with Nance session is 90 minutes of private one-on-one photography instruction that is all about you and where you want to go with your individual photography. Bring in your current questions and goals and we will get to the heart of your next step needs.
Group workshop topics of camera settings, composition, black & white, people pictures, the creative process, iPhone and GoPro can also be taught in these sessions.
Ninety with Nance works with your individual scheduling needs according to mutual availability and is super simple to register through our calendar below.
Ninety with Nance meets in our Dole Mansion studio location at 401 Country Club Rd in Crystal Lake, IL. If you prefer an on location session, there is an additional travel fee of $50 – $100, dependent on the travel distance. If you are interested in an 'on location' session, please email Nancy first to make arrangements – nancy@nancymerkling.com.
COVID-19 – Although we do our very best to socially distance, teaching photography requires up close and personal interaction, too. Please note that although Nancy will be wearing a mask, she will also need to be closer to you than 6 feet and to touch your camera. Please make your appointment decisions accordingly.
You're really going to love your Ninety with Nance!
90 All-About-You Minutes = $125
Schedule your session below or click here to start an email conversation for more info.